Lars Bo Kujahn
Born 1958
Started as a rock-drummer in 1975, but all ready from start of the 80′ies its the Balkan music and the Middle Eastern music, which inspires Lars Bo Kujahn. 1987 forms the band Kefir since then it changes the name to Svira, tours a.m.o. in Macedonia in 1988. Autumn 1988 is a great change with a scholarship to Istanbul and Cairo to study Oriental Percussion from Turkey and the Middle East (supp. By Dansih Musiccouncil and DJBFA). At the conservatory in Istanbul Lars Bo Kujahn takes lessons in turkish rhythms by Ferruh Yarkin , and in Cairo by professor Mahmood Hamoda. Since then its been more than 25 trips to Cairo.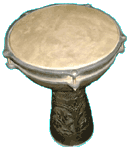 1991 Lars Bo Kujahn publishes the book "Oriental Percussion" (incl.MC) at Percussioncenter Publishing CPH. This was the beginning to give a lot of workshops all over Scandinavia, such as : Falun (Sweden), Kuopio, Helsinki, Tampere, Turko, Jüvaskula, etc.(Finland) Oslo (Norway), Stockholm, Lund, Malmö (Sweden). Teaches daily at RYC Copenhagen and Pianofactory in Hilleröd – and guest teacher at Conservatories in Denmark Have had scholarships for New York and Morocco 1992-1993. Since 1993 Lars Bo Kujahn have studied and played the arabian zither instrument "Qanoon", which he studied in Egypt and Tunis (supp. By DJBFA).
· LBK founds Oriental Mood in Copenhagen in 1991
· LBK was in the board of Danish World Music Association since its     beginning in 1992.
· LBK have since -82 teached in drums and Middle Eastern Percussion   at evening schools and conservatories.
· LBK have five times (89-93-93-95-96) arranged music/percussion   and dance-workshops to Cairo.
· LBK participate in the worldmusic project "One Song and Agerholm" –   in 1997.
· LBK was in april 1998 in charge of, and leader of the weeklong   workshop "East in West" at Rhythmic Music Conservatorie in   Copenhagen (music from Balcan to the Middlemeast and   India/Pakistan) – as well as the follow in 1999 at Nörre Alle Cityhouse   and in august 2000+2001 at Rhythmic Center Cph.
· LBK started up the performance "Oriental Cut" 2002 with Oriental   Mood and guestsdancers and musicians such as Johnny Kalsi, Alpana   Sengupta (GB/India), Fathy Sallama, (Egypt), Asma Mnoor(Morocco)   and many more…
2008 – Leader of "Talent 08″ with Steinar Offsdal at Förde Festival in   Norway
2008 – Oriental Mood & Fatma Zidan winns the "Worldtrack of 2008″ at Danish worldmusic Awards 2008.
2011 – UNESCO prize with "Talent 2008″ for "Young artists for intercultural dialogue between the Arab and Western worlds 2011″
LBK are for the time beeing playing and composing for:
· Oriental Mood (leader since-91)
· World of Drums(percussiontrio since -93)
- 2007-2009 :
- Taastrup Theater – "Christmas Bizz" Oriental Christmas performance
Played with :
· Infernal (Dance) 2000-2002)
· Outlandish (World´n Hip Hop) 2000-2002
· Orientexpress (s)1992-1999
CDs and Books:
Kasper Soeborg :"Global Accent" (2011)
Jingle for "Opgang2″ TV2 Lorry
Fatma Zidan : "Hawel" (2010)
Oriental Percussion 2 (2009) incl. DVD- How to play the arabian tabla
Oriental Mood (2008) Recording film music ; Olsen Banden Junior for Bent F Bjerre w. DRU
Oriental Mood : "Muktalef" (2007)
Kasper Soeborg :"Guitarspheres" (2005)
Lars Bo Kujahn: "Lars Buka" (2003)
Oriental Mood: "Oriental Cut" (2003)
Oriental Mood: "Oriental Visits" (2001)
Infernal : "Waiting for daylight"(2001)
Outlandish (Barrells of bread and water (nr.10)).
·
Oriental Mood: "Best of Oriental Mood +2″ (1999) 
·
Orientexpresen: "Mahala" (1998)
·
Oriental Mood: "Oriental Garden"(1998)
·
Oriental Mood: "Oriental Moods"(1996) 
·
Nazê (Kurdisk) "Ax Kurdistan" (1996) +
Nazê: "Kurdistan – the forgotten world" 
·
Orientexpresen: "Expressivo" (1995) 
·
Besættelsens Sange (1995) 
·
Oriental Mood: "Travels"(1994) 
·
"Oriental Percussion" (1991), 1.+ 2.oplag. lærebog I rytmer fra Mellemøsten.
Kefir: "Kefir" (1985)